NICHIAS SIGMA FLOOR
NICHIAS SIGMA FLOOR can meet a variety of every evolving needs from the general offices to the computer rooms.
Although there are many kinds of raised access floor system is the market, the floor panel of NICHIAS SIGMA FLOOR is made of incombustible ""calcium silicate board"". NICHIAS SIGMA FLOOR is widely acknowledged by a number of customers that it has excellent performance in livability, load resistance, seismic resistance and so on.
Since NICHIAS SIGMA FLOOR has outstandingly high performance which draws the clear line among other kinds of floor panels, it has a number of job references for the informationally cutting edge offices in the re-development area in Tokyo such as Roppongi, Shinagawa and Marunouchi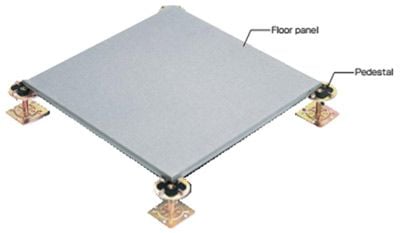 EXCELLENT PERFORMANCE OF NICHIAS SIGMA FLOOR
Solid walking feel: Excellent in solid walking feel and provides comfortable office envir
Safety: The floor panel that is incombustible and of high strength in combination with the steel pedestal can make you rest assured in case of fire and earthquake.
Dimension Stability: Autoclaving (high heat and highly pressurized steam curing) process makes strong and stable crystalline body
Durability: Withstands day-to-day and repeative load and retain the excellent performance for long period of time
Manufacturing Process of calcium silicate board

| | | | | | | | | | | |
| --- | --- | --- | --- | --- | --- | --- | --- | --- | --- | --- |
| Siliceous raw material | Mixing | Molding | Autoclaving process (High temperature and highly pressurized steam curing) | Drying | Grinding on the top face and the back face | Tapering along the sides cutting to side | Bonding reinforcing steel sheet to the bottom and so on | Dust preventive coating | Inspection | Packing, Shipment |
1. Simple and High-performance Raised Access Floor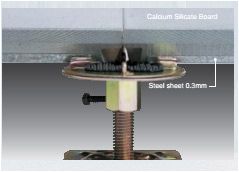 Since adjacent floor panels touch each other on the edge, the floor panel does not have horizontal and vertical movement providing stable panel setting and it realizes raised access floor that has ease of lifting up and putting it back. Panel lock system can be employed
2. Three kinds of floor panel according to load performance
NICHIAS SIGMA FLOOR is excellent in load resistance and can be for use in the general offices, large-sized computer rooms and the intelligent offices where OA (office automation) equipment is used in large numbers. You can select the appropriate floor panel from the three kinds of floor panels as below:
3000N
For general offices

Type M300A

5000N For general offices

Type M500A

5000N For computer rooms

Type M600A
3. Freedom in design creates the atmosphere of office floor
NICHIAS SIGMA FLOOR widens a variety of choices of floor covering thanks to its dimensional stability. Decorative stone covering and wooden covering can be factory-bonded. NICHIAS SIGMA FLOOR can meet a variety of needs according to office uses with floor covering of elaborate design.

| | | | |
| --- | --- | --- | --- |
| Antistatic vinyl tile | Carpet tile | Natural Covering | Decorative Stone Covering |
4. Environmentally-friendly raised access floor syste
- Recycled material is used

"Eco Mark"
+ Certified with the ""Eco Mark"
We use fly ash raw material for NICHIAS SIGMA FLOOR. Fly ash is a coal incinerated ash from power plants. NICHIAS SIGMA FLOOR contributes to environmental conservation
- Recycled use floor panels
+ NICHAS recycled system
We are actively addressing recycled use of used floor panels from the standpoint of environmental conservation and effective use of natural resources.
- We use formaldehyde-free materials only.
+ 60% of the floor panel is made of recycled fly ash and gypsum.

Fly ash

+ Formaldehyde-free materials equivalent to the classification F**** of formaldehyde release are used for the floor panel, the pedestal, the adhesive and all other m0aterials to prevent the sick building syndrome

Specification of NICHIAS SIGMA FLOOR panels
SIGMA FLOOR panel selector
2 types of Sigma floor panels


- High density calcium silicate board with steel sheet reinforcement:
+ Reinforcing steel sheet is attached on the bottom of the floor panel. Dust preventive treatment is applied on the top face. The combination of Type "0" panels and Type "PK" panels with the cutout for wiring can be used according to office uses

Type "O" floor panel Type "PK" floor panel (option for M5000A and M6000A concentrated load uses)
| | |
| --- | --- |
| Standard Grommet Cover Lid Type PK | |
| Optional Grommet Cover Lid Type PK | |
2. Types of floor covering
Floor panel with factory-bonded vinyl tile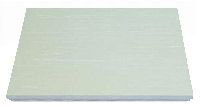 - It is easy to do the installation and the maintenance since the floor covering is already bonded at the factory. There are a variety of floor coverings such as carpet tiles, vinyl tiles. (This panel can not be used with the panel lock system.)

*If floor panels are bonded with floor coverings other than those we recommend, the edge of the floor covering might come off or vinyl tiles might turn upward. Our recommended floor coverings are as follows.
- TAJIMA, Inc: ANTISTATIC TILE C
- TOLI Corporation: Free tile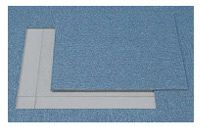 - There are a variety of lay-on type floor coverings such as lay-on carpet tiles and other floor covering materials. Lay-on type floor coverings can be selected according to the office layout plan and its functions.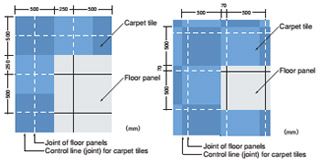 A wide variety of floor covering
- Carpet tile
+ Lay-on type
+ Factory-bonded type

- Vinyl tile (standard color):
+ Factory-bonded type

- Natural wood floor covering
+ Factory-bonded type

* The print color in this brochure might deviate from the original color of the products. Please see the samples for selection of floor coverings.

THE SYSTEMS AND THE PEDESTALS OF NICHIAS SIGMA FLOOR
Panel free system

Panel lock system

It is easy to open and close the floor panel.
The floor panel can be lift up and put back freely without a hassle also after the installation. Changes in the office layout require movement of wiring. It is easy to change the alignment of wiring

Floor panels can be secured easily.
It is easy to secure the floor panel with the combination of the lock plate and the loack base. The maintenance and the office movement/expansion can be done speedily. Stable walk feeling is retained even after the changes in the direction of the floor panel and the movement of the floor panel
* Security Lock System is also available. Please contact us
Specifications of the pedestal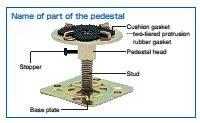 - A full line-up of finish floor height from 50mm to 1,000 mm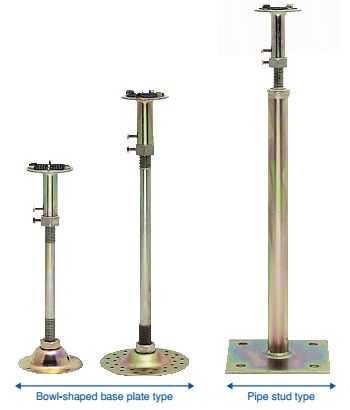 * Please contact us concerning the load resistance and the seismic resistance
* We will supply the standard pedestal unless there are specific requirements.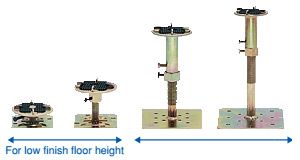 Perimeter pedestals and reinforcing pedestals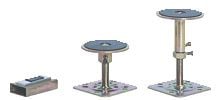 There is no damage to the SIGMA FLOOR system after the seismic resistance test of 1G
(up to 200mm finish floor height)

Seismic resistance test of one (1)G was conducted on the pedestals up to 200mm finish floor height according to Japan's Public Building Association, and there was no adverse effect found in the structure and performance

Raised access floor system that can adjust the deviation in the horizontal level of the concrete floor

SIGMA FLOOR can adjust the deviation in the horizontal level of the concrete floor and keep the access floor panels horizontally. OA (Office Automation) equipment can be stably put on the SIGMA FLOOR