Nichias Omega Floor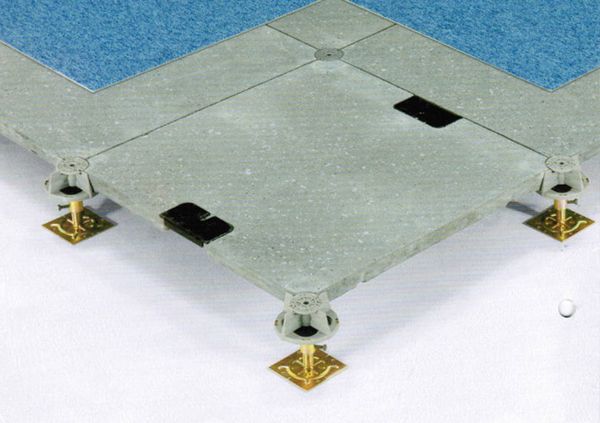 NICHIAS OMEGA FLOORTM is a safe and secure raised access floor system that provides excellent performance and has a proven track record of installation in many buildings.
1. Proven track record of installation in many buildings
Since its market release in 1990, NICHIAS OMEGA FLOOR panels have been installed in more than 5,000,000 square meters of floor area. Renowned for its ease of installation, excellent performance and economy, the raised access floor system boosts a proven record of installations on meny sites including buildings in large-scale re-development areas.
2. High-strength panel using reiforcing bars and laths
A unique reinforcing bar structure and laths are used in concrete to prevent crack, thus realizing a tough and high-strength concrete panel while providing solid walking feel that is comparable to walking on a concrete slab floor.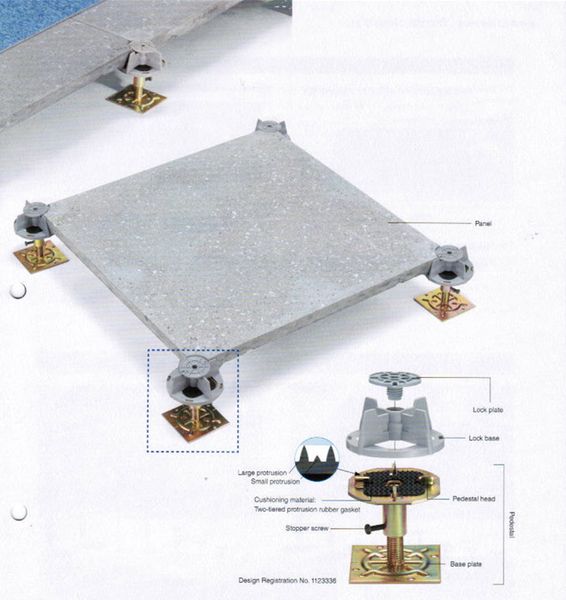 3. Solid walking feel without rattling
The panel lock system incorporates a two-liered protrusion rubber gasket which absorbs rattles that have plagued conventional raised access floor systems and reduces squeaking noise and hollow sound. This structure also ensures a natural, comfortable walking feel and reduces foot latigue for office workers.
4. Raised access floor system with excellent cost performance.
Offers various excellent properties at low cost, creating a comfortable office environment at reasonable cost.
Panels
The base material is reinforced with steel bars and laths. Type "0 (zero)" and type "PK" with cutouts for wiring can be freely combines

Panel specifications

A full lineup of finish height from 60mm to 1000mm

Field pedestal Perimeter pedestal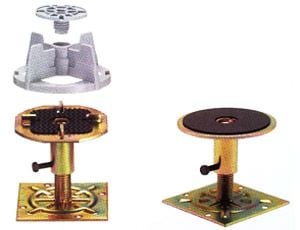 Lock type field pedeatal Perimeter pedestal
| | | |
| --- | --- | --- |
| | Field pedestal | Perimeter pedestal |
| 60mm | D-50 flat base type | E-50 flat base type |
| 80mm | D-80 flat base type | E-80 flat base type |
| 100mm | D-100 flat base type | E-100 flat base type |
| 125mm | D-125 flat base type | E-125 flat base type |
| 150mm | D-150 flat base type | E-150 flat base type |
| 200mm | D-200 flat base type | E-200 flat base type |
| 300mm | 150-square bowl-shaped base plate type | 100-square floor type |